Funerals is an essential role in the grieving process. They give friends and family who are still alive a chance to celebrate the life that's been lived rather than the life that was lost.
Many families who can arrange services look for methods to make them more meaningful. Personalization can help with it.
Personalization is becoming more and more popular, whether it be in the form of personalised memory boards showing precious photos or music and keepsakes.
As they say their final goodbyes, families can personalize the service by including meaningful details that will help them remember their loved ones.
Think about these personalization ideas to help convey the story of your loved one's life .
while your family gets ready for the services.
Involve a Certified Celebrant
If you do not have a funeral officiant in mind, Certified Celebrants can help you design a special tribute. Funeral Service ceremonies are trained to pay attention to families' desires and respect them by incorporating special elements into the service that pays tribute to your loved one's life and legacy.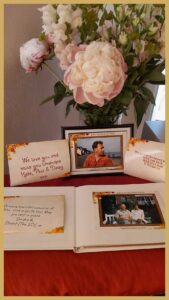 Displaying personal items is another option to make the funeral service for your loved one unique. Think about their interests and passions. A favourite sports team of theirs? Favourite time of year? You can give attendees a greater sense of what your loved one cherished in life by presenting personal things.
Light Candles
Did you know that memory and smell go hand in hand? Consider burning a few candles to provide a comforting aroma to the service if your family can recall a particular scent that they associate with your loved one (think: your mom's apple pie).
Memorial Stone
Did your loved one like to garden? Create a station with small stones where visitors can leave their names and a brief note. The rocks can either be kept by your family at the house or in the garden.
they can be scattered in a place that has special value for the deceased.
Take a Moment of Silence
Usually, family members pause to process everything related to the loss while arranging services. During the funeral, take a moment to collect your thoughts and feelings. Take advantage of this time to communicate with your loved one in anyway it feels right to you.
Living Memorials
An increasing movement in favour of commemorating life rather than death includes living memorials. The idea is to convert the funeral's emphasis from mourning the deceased's passing to celebrating their life as it endures in the hearts and minds of their loved ones. Distribute seeds or saplings for guests to plant on their own as a living monument.
Preferences for Personalization
Which customized elements would you desire for your private funeral? When you preplan, you can write down special details for your funeral ceremony to make sure everything is taken care of in advance.
Conclusion
Hire professionals for every other major milestone in our lives, so it's no surprise that more and more families are interested in having these artists at their funeral services.
This blog post on the subject shows families that you recognize their interest and can teach them how to approach funerals personalized in a sensitive with appropriate way.